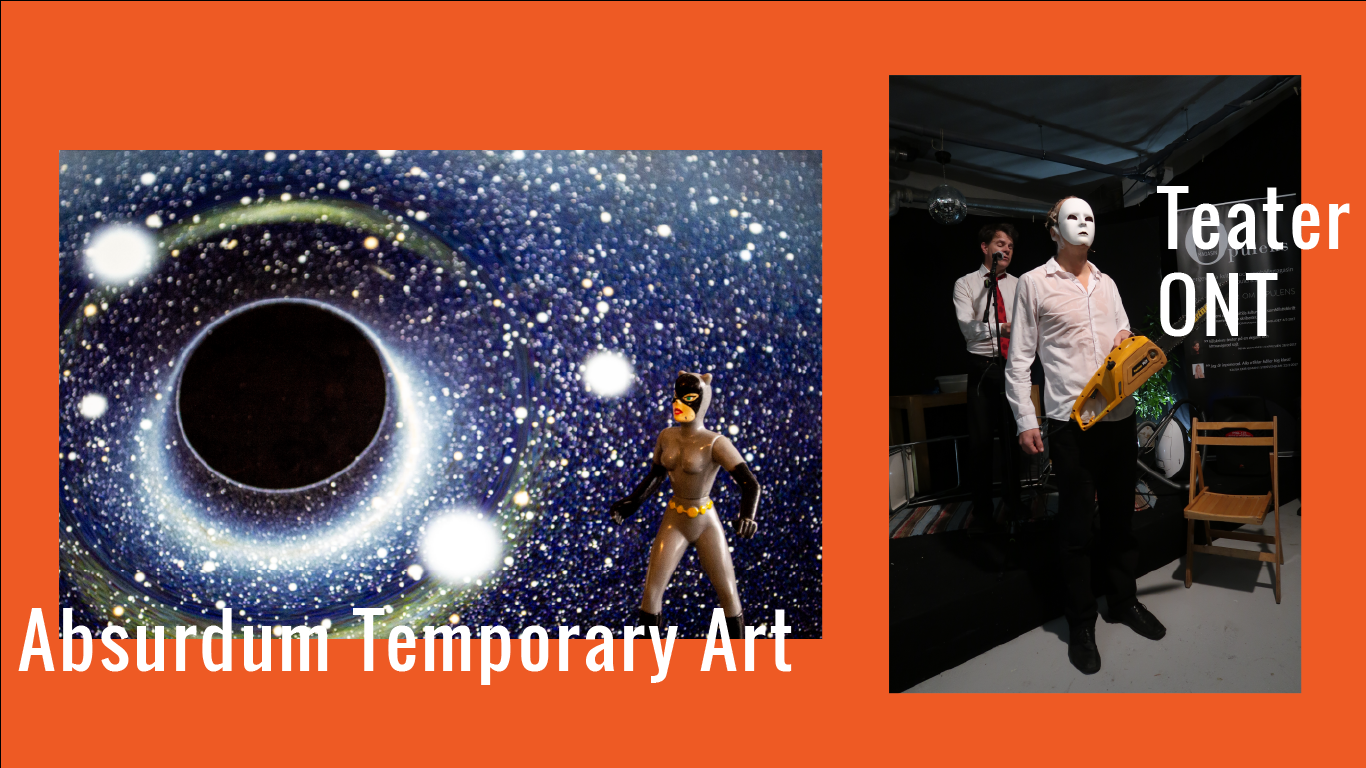 Malmö scenfest | Absurdum Temporary Art | Teater ONT
2020-03-28
13:00 – 13:30
20:00 – 21:00
We are very proud to have the two following performances at FRANK During Malmö Scenfest. It's free entrance, no need to book tickets or whatsoever. For more information about Malmö Scenfest you can check their website: http://teaternsdag.se/
A lecture on how I learned to time travel
By: Absurdum Temporary Art
A couple of years ago Anna Sand accidentally time traveled…
A performance lecture about excavations of memory, nostalgia and the fear of things to come.
"We recognize objects with the help of memory. Is it possible then to reverse the process and gain memory from an object? To travel in to the memory through objects?"
Hear Sand talk about her experiences and how she learned to time travel and maybe try it yourself.
28/3 13.00 -13.30.
We open 12.30. Space for an audience of 30 people, standing, floor sitting and a few chairs.
In English.
More: https://www.facebook.com/absurdumtemporaryart/
Palme Chainsaw
By: Teater ONT
Palme Chainsaw är en Art de Rire-föreställning. Tre performances, tre nedslag, tre metaforer för vårt europeiska social arv. Föreställningen följer en starkt organiserad och kaotisk koreograf, en sorts förvriden, chaplinsk commedia dell'arte: motorsågen, tandborsten och dammsugaren. Och stolarna. Och Palme förstås. Föreställningen arbetar i avgrunden mellan språket och de existentiella kropparna, en lika desperat som omöjlig förslutningskonst. Palme Chainsaw är tyst förtvivlan över den nya hemtama, domesticerade polariseringen i Riket.
Teater ONT är en performancegrupp som består av Niklas Åkesson och Per Alvsten. Vår scenkonst är narrativ, koreografisk och interaktiv. I mötet mellan scenrummet och åskådaren finns en enorm potential; det är här som olika former av över-och underordning, marginalisering och hierarkier blir synliga. Våra performances arbetar i spänningsfältet mellan det litterära å ena sidan, och det fysisk-materialiserade å den andra. Vi har varit verksamma i 15 år och drev bl a performanceklubben Klubb ONT på Hedmanska Gården vid Lilla torg under många år.
28/3  20-21 (Insläpp. Kl 19)
More: https://www.facebook.com/teateront/