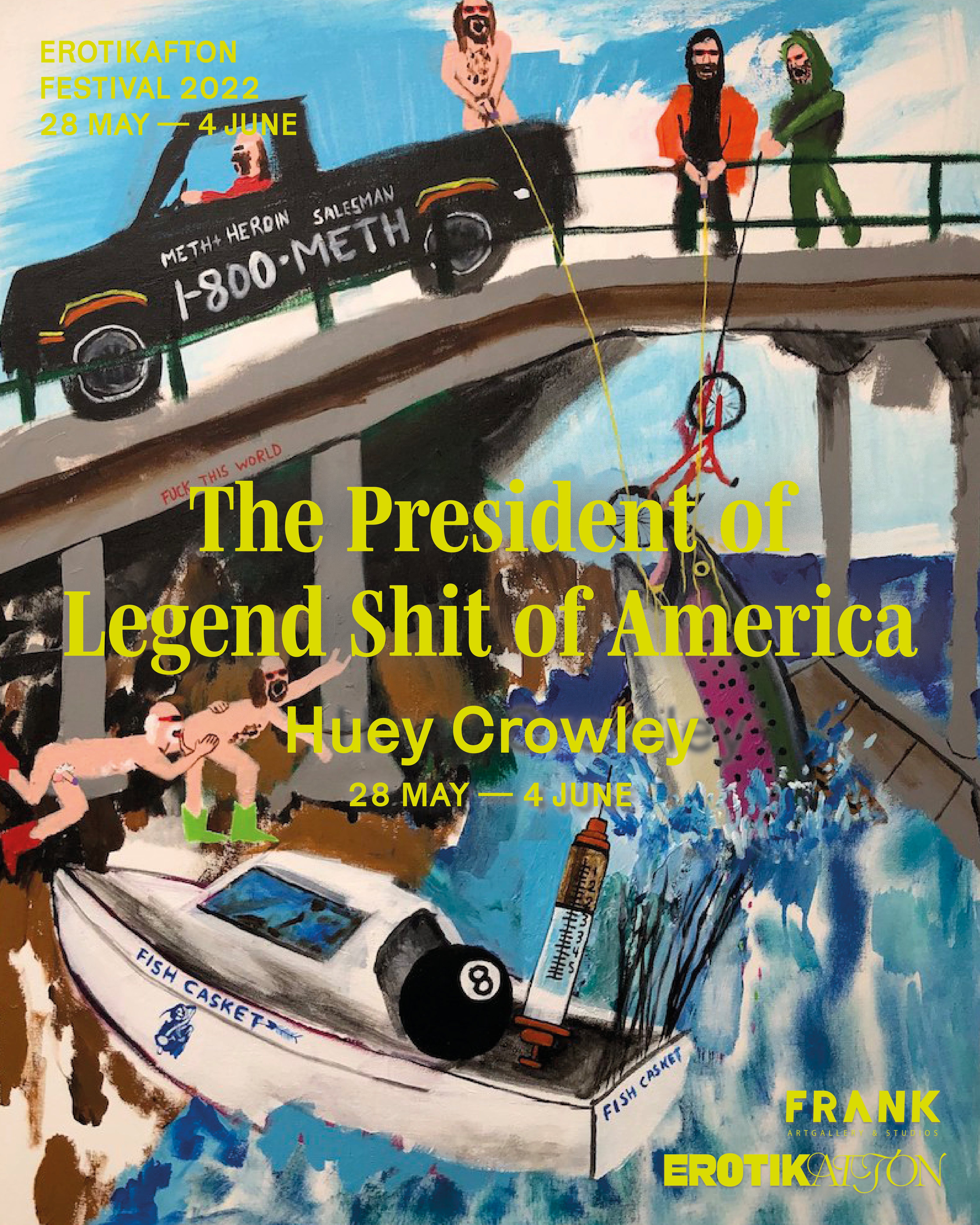 The President of Legend Shit of America | Erotikafton Festival 2022
2022-05-28 - 2022-06-04
Saturday 28 May: 17.00–20.00 (performance)
Sunday 29 May: 14.00–16.00
Wednesday 1 June: 16.00–19.00
Thursday 2 June: 16.00–19.00
Friday 3 June: 19.00–22.00 (performance)
Saturday 4 June: 16.00–19.00
The President of Legend Shit of America
28 May — 4 June
Painting & performance | By Huey Crowley
Festival ticket required for entry
​​Born 1987 in Two Rivers, Wisconsin, lives and works in Brooklyn, New York, Huey Crowley is best known for his bright and colourful paintings depicting larger-than-life figures, from celebrities like Britney Spears, Michael Jackson and Mr. Peanut to his alter ego Fishman and archetypal figures from American colloquial culture.
Often expressive to the point of confrontational the paintings demand the viewer's attention and leave the observer questioning the nature of high and low culture, often mixing markers of both in the same artwork. The extreme, whether in personalities, actions or cultural markers, is a cornerstone of Crowley's work.
Crowley studied painting in his home state of Wisconsin before moving to New York. He has been exhibited and included in collections worldwide including solo shows in Los Angeles, Norway, and London.
Erotica & Sexuality Art Festival, by Fennek Film
28 May — 4 June, 2022 | Malmö, Sweden