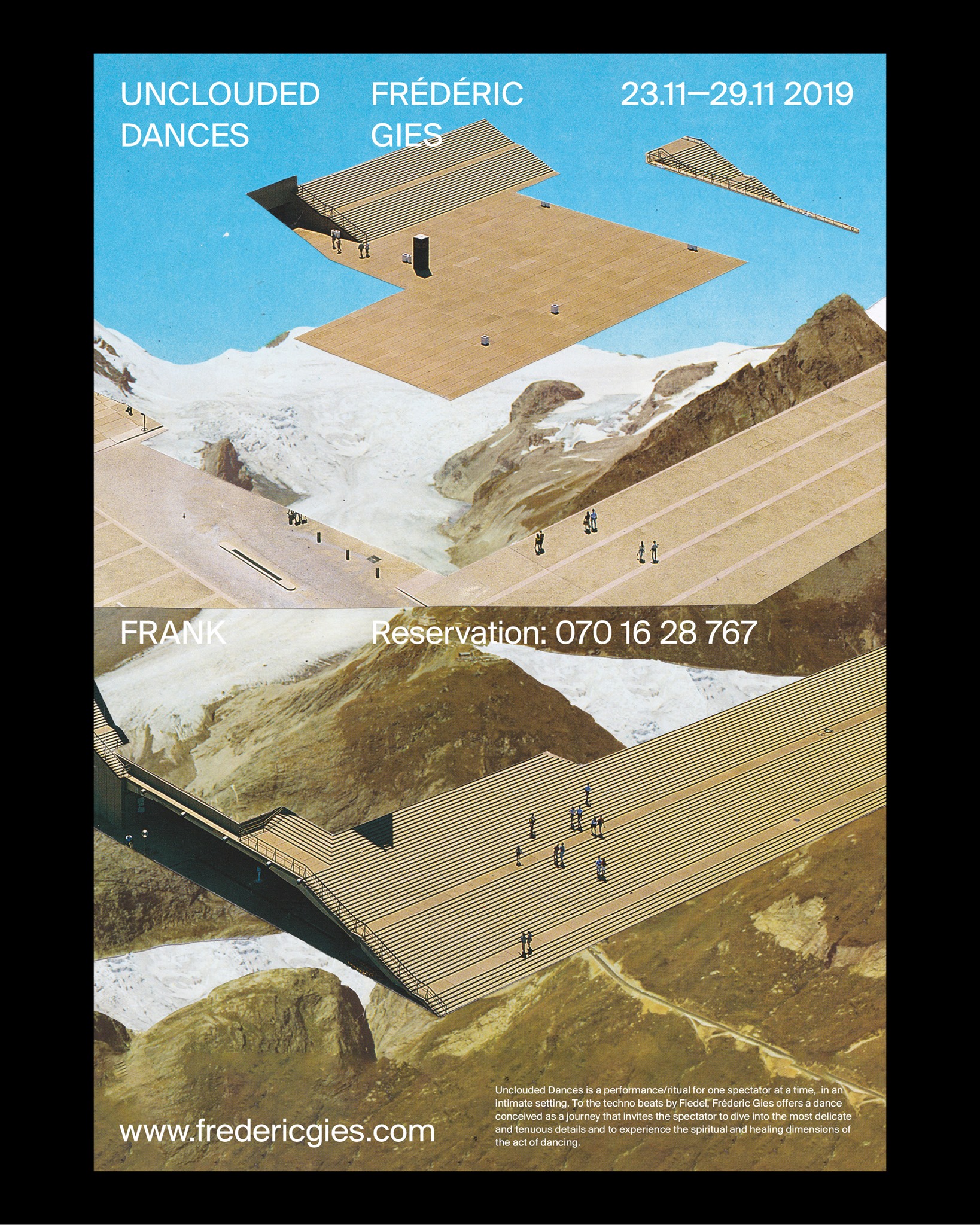 Unclouded dances | Frédéric Gies
2019-11-23 - 2019-11-29
Unclouded dances is a performance/ritual for one spectator at a time, in an intimate setting. To the techno beats by Fiedel, Fréderic Gies offers a dance conceived as a journey that invites the spectator to dive into the most delicate and tenuous details and to experience the spiritual and healing dimensions of the act of dancing.
Book your session by calling 0701628767
The performance/ritual is 60 min long. Session can take place afternoons and evenings. Free admission
Address: FRANK Ahlmansgatan 3, Malmö
Earlier works:
https://www.expressen.se/kultur/scen/uttalad-erotisk-laddning-nar-skogen-blir-en-klubb/
https://www.dn.se/kultur-noje/scenrecensioner/scenrecension-begar-och-techno-i-queen-of-the-fauns/
Dance, props, set: Frédéric Gies / Music: Fiedel /Dress: Grzegorz Matlag / With the support of Kulturrådet / Coproduced by Weld and Skogen
About
Frédéric Gies is an artist in the field of experimental dance, based in Sweden.
After dancing in the works of various French choreographers in the 90′s (Daniel Larrieu, Olivia Grandville, Odile Duboc, Jean-François Duroure, Bernard Glandier and Christophe Haleb), they started to develop his own work, which focuses on the articulation between dance, choreography and politics, and more precisely on how dance and choreography can address politics in a non-representational way. Their pieces originate from rigorous movement research processes, which are informed by their experience in the field of somatic practices as well as in specific forms of contemporary dance, their former training in ballet and their participation in techno clubs and raves. The dances they create collapse in various ways the hierarchies and distinctions between different dance forms, recycling and perverting dance history.
Since 2014, their works are tightly connected to techno music and to their club and rave experiences. For all of them, they work in a close collaboration with the dj and producer Fiedel (Berghain/Ostgut ton) and the lighting designer Thomas Zamolo. The visual artist Anton Stoianov and the fashion designer Grzegorz Matlag are also regularly involved in their work. Their performances take various shapes, designed for a regular stage setting or conceived as durational events, which blur the border between performance and clubbing. Their latest works include the seven hours performance Dance Is Ancient, and Queens Of The Fauns, for which Fiedel created a live set. In 2018 they were commissioned to create the piece Tribute for Weld Company and beginning of 2019, the piece Uranus for the BA in dance and choreography at DDSKS.
They present their work internationally in various contexts (dance venues and festivals, museums, music venues and festivals). In Sweden, Frédéric Gies' work  is supported since ten years by Weld, and more recently by Skogen and Inkonst. They are recipient of grants from the Swedish Arts Grants Committee and are supported by the Swedish Arts Council. So far, their work has been presented in 17 countries.
Parallel to their latest works, they also developed the practice Technosomatics, which they transmit in various contexts.
Besides their own pieces, they also created works in collaboration with other artists (Anna Pehrsson, Jefta van Dinther, DD Dorvillier, Manuel Pelmus, Bruno Pocheron, Isabelle Schad, Alice Chauchat, Frédéric de Carlo, Odile Seitz, Andrea Keiz, Gavin Youngs and Daniel Jenatsch). They have been one of the initiators of the collective Praticable. They also danced in pieces of other choreographers such as Jefta van Dinther, Antonja Livingstone, Petra Sabisch, Isabelle Schad and Cristina Caprioli.
In 2010 and 2011, they were one of the organizers  of the Living Room Festival, which took place in Berlin and Madrid.
They have been invited as guest teachers in various contexts (HZT, SNDO, TEAK, Ponderosa, DDSKS…). Between 2012 and 2018, they were a senior lecture in choreography at DOCH-UNIARTS in Stockholm, and were the head of the Master Programme in Choreography.