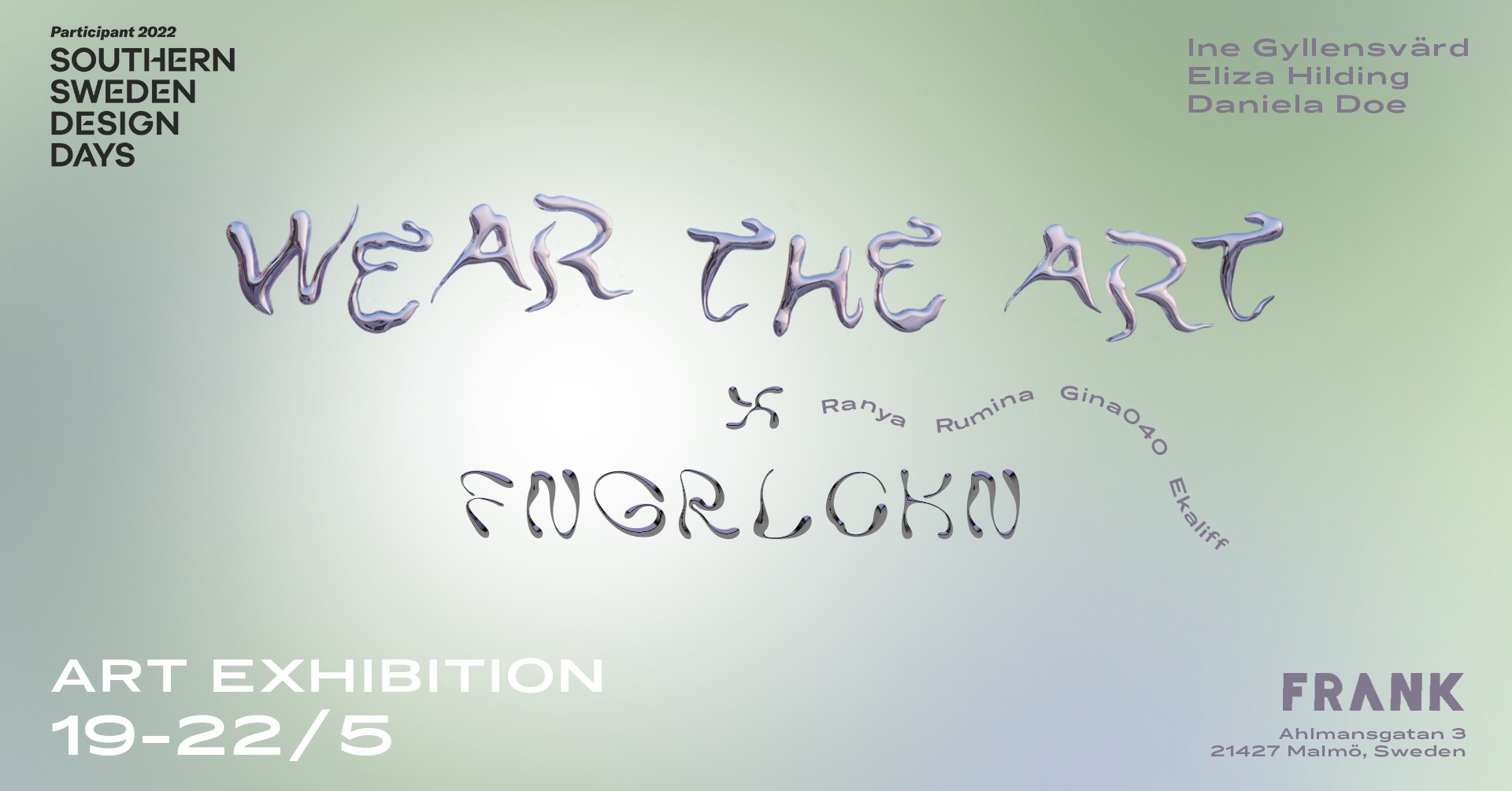 WEAR THE ART X FNGRLCKN | Southern Sweden Design Days
2022-05-19 - 2022-05-22
Exhibition + Performance = Wear The Art
"Wear the Art" är en kollaborativ utställning av tre designers som av en slump träffades efter att de alla flyttat till Malmö. Nuförtiden träffas ofta unga kreatörer alltmer genom sociala medier, men detta samarbete sticker ut då det bygger helt på fysisk proximitet. Det visar vikten av offentliga platser där kreativa människor kan mötas och dela sin kärlek för konst och design.
Ine, Eliza och Daniela delar ett intresse för livfulla färger och grafiska mönster. I den här utställningen kombinerar de sin konst och estetik för att visa upp bandet mellan konst och mode – galleri och kropp.
Utställningen innefattar också textilkonst som kopplas till utövandet av modedesign. Tanken bakom temat "Wear the Art" är att besökarna kommer kunna uppleva en del av modet på sig själva.
FNGRLCKN är ett Malmöbaserat musikkollektiv bestående av DJs och producenter. De kommer att spela den 21 Maj.
Välkommen!
19 • 20 • 21 • 22 maj
FRANK Gallery
Ahlmansgatan 3 21427 Malmö, Sweden
Link to Facebook-event
[EN]
"Wear the Art" is a collaborative exhibition between three designers and FNGRLCKN collective who met by coincidence shortly after moving to Malmö. As collaborations between young creatives are increasingly facilitated through social media, this connection stands out as it is entirely based on physical proximity. It exemplifies the importance of public spaces where creatives can meet and get together.
Ine, Eliza, and Daniela share a love for vivid colors and graphic patterns. In this exhibition, they combine their designs and aesthetics to showcase a blurring of the lines between art and fashion, gallery and body.
The exhibition also includes textile art that connects to the practice of fashion design. In the spirit of the exhibition's title, some designs will be available to try on and style on your own body.
FNGRLCKN is a Malmö based collective of DJs and producers. They will perform on the 21st of May.
Welcome!
19 • 20 • 21 • 22 may
FRANK Gallery
Ahlmansgatan 3 21427 Malmö, Sweden